When Google was first launched, Google published a cartoon series to attract users all over the world towards it. And When I first tried Google Chrome, it was like a cartoon making fun of a full fledged browser, which can't even support scrolling and large number of website were not appearing properly in this browser. But Google Chrome soon recovered and now it become Top Browser to surf.
Today we will show you top 11 features of Google chrome which is why You should start using it (if not already started) and if you already using it, you will not leave it because of these. Here goes the list —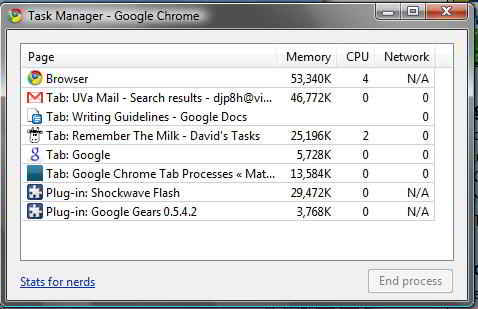 1. Speed – Google chrome is fastest compared to all other, whether it's application loading time or Site loading time.
2. Tabbed Interface – It's easy to use Tabbed interface is really good, It's so good that Chrome theme for Firefox (which makes Firefox look like Chrome) is one of most popular theme.
3, The Omni box – It handles everything in one box, be it url or search query. It also shows Web history and shows relevant pages from your browsing history in case you need to see them instead of going for Google Search. No need to open Google, simply type here and hit enter, it will Auto search Google if you did not type a URL or shortcut.
4. Pop up are shown in its Own tab. If you are getting a useful pop up and not AD, you can drag it out to see in its own windows, But that will be rare.
5. Auto Complete – It search history and browsed pages and show suggestion as you type. Which can be used to auto complete your URL if you to a history page.
6. Thumbnail – It shows 9 most viewed website as thumbnail whenever you open a new tab, So you can go to them by simply clicking one button. Also you can remove any of the thumbnail, it will replaced by next most accessed website Thumbnail.
7. It has Dockable windows, Move it and everything will move including Windows state.
8. Privacy Mode – You can use it to keep your history and Cookies cleaned as soon as you end the Google Chrome Window.
9. Easy download system – It shows download in same windows from where you initiated it and you can see them in separate tab if you wish.
10. Task Manager – It is much like Windows Task Manager, only difference is it reports about your Borwser.
11. Best of all which I like – Sandboxing – Now you can browse without Malware and Phishing, It does not allow Phishing or Malware site to load as soon as you type the URL.
With all these features, Google chrome is going to be one browser every one going to love. Google has improved their browser a lot from version 1.0 to current version and now it's worth using it. Moreover it is open source so you can customize it if you wish.