Quick Defrag is a Virus/Malware which is not very Old but taking a big hit with the start of Year 2011. It disguises you saying your PC has lots of errors and need defragmenting, and pose himself as legit good program to protect your PC. And Be seeing a lot of popup/ Browser redirects and this security message you fall for trap and decides to buy this piece of shit which does nothing but create more problem for you.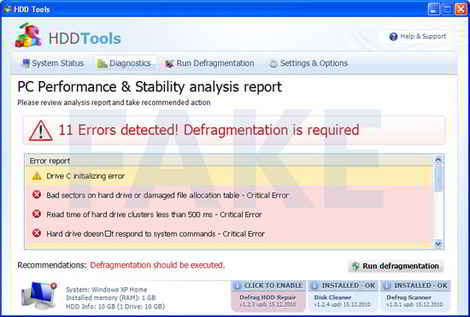 Once you are infected with it, It won't let you open any Executable program, whatever you try to open A pop up will comes up saying your operation could not be completed due to Hard disk errors, Once you close this another popup will ask you to scan your system. If you say yes to Scan after sometime you will be shown a list of error with option to download Quick Defrag utility to fix these. Even if you decide not to use it and restart the Window, you will find that Quick defrag has already installed there and sitting on your computer. Now it is creating more problem and the Fake security alerts will keep coming more frequently as it has already installed his malicious code.
Now if you reading this, you already got infected with it. Then question is how to remove it, well it can be removed very easily using Malware Byte's Antimalware.
To use Malware Byte's Antimalware first you need to download it. It is available free of cost without real time protection. You don't need real time protection anyways to remove this virus. Malwarebytes can be downloaded for free here: http://www.malwarebytes.org/mbam.php
Once you downloaded Antimalware, you need to update it to latest patch or Patch up to 2nd Jan, 2011. They have included information about Quick Defrag Virus and how to remove it in their patch on 2nd Jan only. so if You run it with older patch you will not be able to detect Quick Defrag Virus and remove it. Also You need to install / update it in Windows Safe Mode (with networking to update) as Quick defrag virus does not allow you to run anything in Normal mode.
Once your ready after installing Update, simply run the Malwarebyte's Antimalware, with full scan in safe mode itself. Once scan complete The program will show you list of all malware including Quick Defrag (if any) and will offer to remove them. All you need is follow onscreen instructions and you are done. Once finished it will ask you to restart the computer.
After restart you may find Quick Defrag Icon on desktop and in Start menu, simply delete them and you are done removing this annoying program.